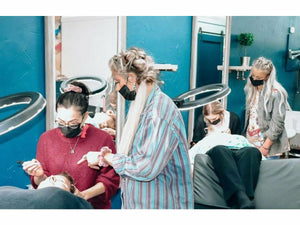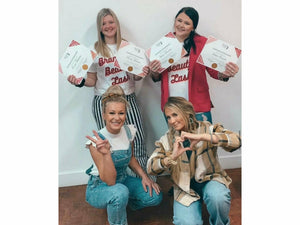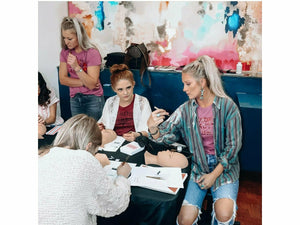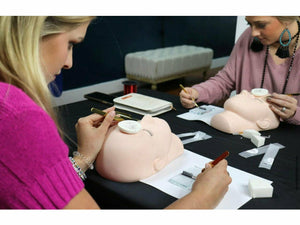 2-in-1 Lash Training
STAY TUNED FOR UPDATED TRAINING OPTIONS AND DATES
FOR PRIVATE TRAINING EMAIL BLAZI@BRANDEDBEAUTYLASH.COM
Training created by experts
With 14 years combined experience as lash artists + business owners, we have carefully crafted our training to offer the optimal experience in helping you launch your new career path.
The four day 2-in-1 training covers the basic skills featuring hygiene sanitation + techniques in lash artistry, as well as the advanced volume methods to take your lash career to the next level. 
Each student will leave the classroom with a fully loaded product kit (value over $400) to begin lashing right away.
There are two options for this training:
Enroll in the four day training to learn classic + volume lashing 
If you are currently certified in classic lashing you are able to join us on days three + four for the volume portion of the training only.
There are two options for payment:
Pay in full
Pay 1/2 deposit to reserve your seat.  Remaining payment due 10 days prior to scheduled training date.
Requirements
Check your state's Cosmetology Board to understand the requirements to perform lash extension services.
Students are responsible for securing one model on both days two and four of the training.  (Unless other arrangements have been made.)
Student must be a licensed cosmetologist esthetician, or provide proof of current enrollment.
Course Outline 
Why lash extensions

Misconceptions

Eyelash anatomy

Health + safety

Classic lashing 101

Product knowledge

Client relations

Business success plan

Full set process

Fill procedure + removal process

Mannequin practice

First live model

Why volume lash extensions

Volume lashing 101

Industry standards

Advanced volume techniques

Mapping + styling

Mannequin practice

Second live model

Certificate presentation
Classes are non-refundable, but transferable.
Students can reschedule at no additional charge up to 7 days before the scheduled date of the course.  Students are responsible for and must abide by laws and regulations regarding licensing of the state in which they are practicing eyelash extensions.

Class Location: Branded Beauty Bar Stephenville, Texas